Wednesday, 02 November 2005 19:48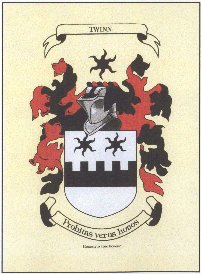 This Crest was obtained by Clive Barry Twinn, from Australia, who viewed the name Twinn in the 'Blue Book' at Westminster Abbey. The name seems to of Saxon origin and dates back to about 600AD when it first appeared in Britain. The Family Crest appears to be of Saxon Germanic origin.

Bertrand Twinn found an alternative crest, below, whilst he was doing some family research in Canada. It was given to Jennifer by Jennifers cousin, Bertrand's Grandson, Colin Twinn. Jennifer's family has French connections through her Great Grandmother's family.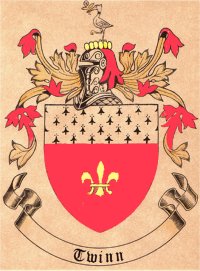 Ref: Jennifer Anne Denning ©MMV
Last Updated on Wednesday, 01 September 2010 19:42